Vice Admiral Vinay Badhwar, AVSM, NM, Chief Hydrographer to the Govt. of India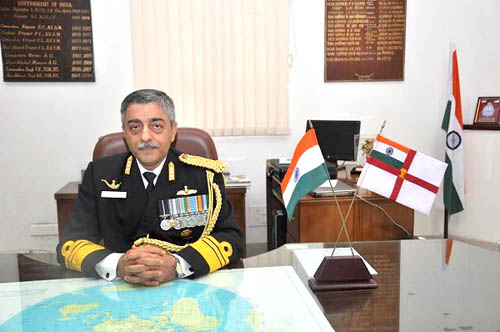 Vice Admiral Vinay Badhwar, born in 1961, joined the National Defence Academy in Jul 1978. He was commissioned in the Indian Navy on 01 Jul 1982. After completing his watch-keeping onboard a Destroyer, he was appointed as Navigating Officer of a Patrol Boat. From there he opted for the Hydrographic Branch and after completion of Basic Hydrographic Course at the National Institute of Hydrography, Goa, joined INS Darshak followed by INS Mesh, both survey ships. He qualified as a Ship's Diver during his tenure onboard INS Mesh. After gaining field experience onboard these ships, he was deputed to Gulfport, USA, for the HYCOOP programme. This was followed by specialization in Hydrography in 1987.
After specialisation, he has held various appointments onboard survey ships including as Executive Officer of INS Sutlej followed by a tenure at National Institute of Hydrography, Goa as an instructor. He has commanded three ships, namely, Jamuna, Investigator and Sarvekshak and also held various staff appointments in the Hydrographic Department and Naval Headquarters. During the intermittent period, he has undergone the courses at Defence Services Staff College, Wellington and at Naval War College, Mumbai. He has been a member of the IHO Capacity Building Sub Committee since it's inception and has been the contact point for INT Chart Coordinator (India) of North Indian Ocean Hydrographic Commission. He has through the 31 years of surveying, gained vast field experience. This includes surveying in the challenging environments of Gulf of Kutch and Khambhat, Andaman and Nicobar Islands. As a Commanding Officer he has also undertaken surveys in foreign countries. He has an in-depth knowledge on hydrography and digital cartography, including various aspects of international charting.
Vice Admiral Badhwar is married to Amrita Badhwar and has two daughters, Kriti Badhwar and Shristi Badhwar.